Articles and References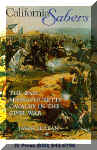 California Sabers, The Second Massachusetts in the Civil War by James McLean. Available from Amazon.com and in bookstores.
Bear Flag and Bay State: The Californians of the Second Massachusetts Cavalry by Tom Parsons Available October 17th 2001. Pre-order your copy now on Amazon.com.
Their Horses Climbed Trees by Larry Rogers. Available October 2001 at www.schifferbooks.com/
Life and Letters of Charles Russell Lowell, Captain Sixth United States Cavalry, Colonel Second Massachusetts Cavalry, Brigadier General United States Volunteers. Lowell, Charles Russell, edited by Edward Waldo Emerson. Boston: 1907.
"The Sojourn of the Second Massachusetts Cavalry in Vienna." by Harrison, Noel. Northern Virginia Heritage, 7 (June 1985), pp. 11-12.

"Jubal Early and the Californians" by Mike Fitzpatrick Civil War Times Illustrated, May 1998

"Thirty Years Later 'I will clean them out or I will not come back' " by Richard K. Tibbals CWTI, April, 1986

"Go East, Young Man," by Richard K. Tibbals Military Images, Vol. 5 #6 May 1984
and from the Southern perspective:

Partisan Life with Mosby, by Major John Scott, 1867
Mosby's Rangers, by James J. Williamson, 1896
Ranger Mosby, by Virgil Carrington Jones, 1944
Gray Ghost The Life of Col. John Singleton Mosby, James A. Ramage, 1999