James Hepburn
This non-regulation cavalry saber has the following inscription on the gold plate attached to scabbard above the top mount in script letters: Presented June 1865 to Lieut. James W. Hepburn. By the Citizens of Mokelumne Hill and Vicinity. As a token of their appreciation of his Services while a Soldier in the Army of the POTOMAC.
James Worthington Hepburn was born January 9, 1838, the son of James Hepburn and Rebecca Cowden and the youngest of six children. His forbears originated in Scotland, but had established their homestead in Pennsylvania in the 1750's and since then resided in Williamsport, Lymcome County, lush farm country with low rolling hills and well painted barns.
By the time James was 25 years old and the Civil War hostilities began, he was living in the West while trying his luck in the gold fields of California. James was a tall young man for the time at 5'8 ½" with light hair and blue eyes. And it seems he was ready for a fight. James was among the second wave of enlistees to join the group of Californians headed for Massachusetts, eventually to enter the war as part of the Cal Battalion, formally of E Company of the 2nd Mass Cavalry.
The 2nd Mass soon participated in numerous scouts, expeditions, and skirmishes which included South Ana Bridge, Hanover Court House, Ashby's Gap, Fairfax Court House, and Leesburg, Virginia. These small engagements and skirmishes gradually whittled away at the muster rolls on both sides. On August 24, 1863 Pvt. Hepburn's E Company was escorting 100 horses past Gooding's Tavern when they were surprised by Mosby and about 30 of his men. A hot skirmish took place and two men from both sides were killed, five 2nd Mass troopers were taken prisoner and 75 horses were lost to the partisan rangers. But the 2nd Mass troopers had helped even the score by seriously wounding Col. Mosby in the side and thigh. Pvt. Hepburn remained with the unit throughout 1863 and 1864. In October of 1864 he was among the troops who were surprised by Confederate General Jubal Early's attack at Cedar Creek. The desperate struggle included Union cavalry charges into the Confederate lines of infantry. As the two lines crashed together during one of these clashes, Sergeant Hepburn received a bullet wound to his head which bled profusely, although he was to survive the day's severe fighting.
By 1865 and as the Army of Northern Virginia was coming to bay at Petersburg, Sergeant Hepburn received the news that he was to be honorably discharged from his service with the 2nd Massachusetts, in order to return to California and accept a commission as a 2nd Lieutenant in the California Cavalry. His time of service in the Civil War had drawn to a close. On July 8, 1865 Independence Day festivities were held at Mokelumne Hill, in Calaveras County, California. The day's celebrations included a parade, brass bands playing "soul stirring airs in honor of the glorious event" and orations from speaker at a stand in the center of town. A speaker took the stand and recounted the honorable service of Lieutenant Hepburn and the men of the Cal Battalion. He concluded his remarks thusly:
"Sir, it is as a token of our appreciation of the services which have upheld the glory of our flag, and vindicated the cause for which our fallen brethren laid down their lives, that I, in behalf of the Citizens of Mokelumne Hill, present to you this sword. Take it, wear it as a memento of the respect and love which we shall always cherish toward you, and if need be, use it in the service of your country. Should foreign tyrants wish to share in the humiliation of domestic traitors let us hope that this sword will write up as bright and enduring a record as that other which flashed and triumphed upon the battle fields of the rebellion."

Lieutenant Hepburn then took the podium and gave this stirring yet concise reply:
"Captain Hopkins and Gentlemen: The army is a poor school in which to learn the arts of oratory, and I cannot find words to express my feelings of gratitude to my old friends of Mokelumne Hill for their noble gift which you have just presented me. Whatever may be the sum of the services I have rendered to our country in the war which has just closed, and whatever the peril incurred, thousands and hundreds of thousands of others have freely done the same. And in the future we may be sure of this: that our country will ask no service of any of her sons which myriads will not cheerfully volunteer to perform. This gift - the precious token of esteem from my old friends - will ever be most dear to me; and I shall endeavor that no act of mine shall ever disgrace it, or its donors. - Through you, sir, I tender to them my thanks, My debt of gratitude I cannot express, and never can repay."
At the conclusion of his remarks, the crowd gave three rousing cheers, after which a rendition of "When Johnny Comes Marching Home" was played, followed by a benediction offered by Reverend Pierpont and Lieutenant took his step into history.
Biography courtesy of Mike Sorenson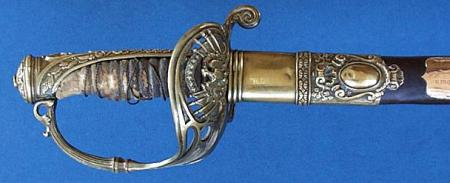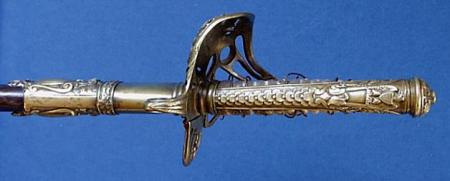 Cast brass guard with outstanding winged eagle surrounded by oak leaves and panoply of arms and banners. Top of grip and pommel are cast brass, heavily decorated with eagle and leaf design on stippled field showing very little wear. Backstrap has knurled finial at center and at slot for saber knot. The sharkskin grip is 50% intact with remains of wire wrap still present but not attached. The counterguard folds against scabbard. European import single edged blade is 35 ½" and is marked "W. Clauberg/Solingen" at ricasso with Iron Proof on top of blade and importer's name "Schuyler Hartley & Graham, New York". Blade is semi-bright with perfect age patina, minor pitting at tip. Etched motifs in 6" pattern at center of blade is swept eagle over E Pluribus Unum banner, other side "U.S." with intricate scrolls, very sharp lines. Metal scabbard is frosted brown surface with 95% remaining. Intricate cast brass mounts are heavily decorated with scrolls, leaf designs and panoply of arms. Gold plate with inscription is mounted between mount and top cap.